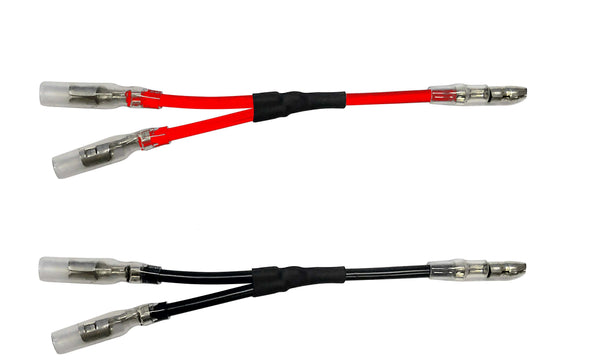 NUTV5 Y splitters
Use these Y splitters in case you need to power 4 speakers by 2 channels.
These Y splitters will allow you to connect 2 speakers in parallel off 1 channel.
Should be used when:
You are adding a subwoofer to your existing  NUTV5 QUAD system (4 X N5 speakers)
You are adding 2 more N5 speakers to your existing NUTV5-S system (2 X N5 speakers and an NSUB)
Typically used in our NUTV5-S QUAD systems that includes 4 tower speakers and the NSUB subwoofer. (Do not purchase these Y splitters if you buy the NUTV5-S QUAD as it's already included with the NUTV5-S QUAD)
NOTE:
You can't split channels to have 2 subwoofers in parallel
These Y splitters will work with the 5 series amplifier only
 ** Each set of Y splitters contains 4 splitters - 2 red and 2 black.